Posted on
LCX and BioID Partner to Innovate Crypto Compliance With AI-Powered Biometrics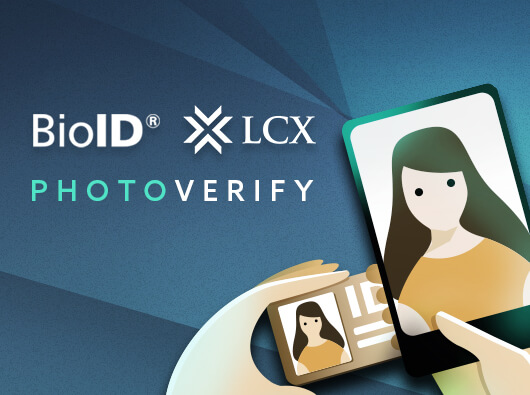 Nuremberg, Germany and Vaduz, Liechtenstein – September 24th, 2020 – LCX AG (Liechtenstein Cryptoassets Exchange) has announced the collaboration with German biometrics provider BioID GmbH. With facial recognition and liveness detection technologies from BioID, LCX has introduced an Anti-Money-Laundering (AML) compliant digital identity verification on the institutional as well as consumer level.

Since 2018, the financial technology startup LCX provides cryptoasset financial products and services. As a blockchain innovator, LCX is focused on helping both traditional and blockchain market participants with the LCX Terminal. The advanced crypto trading desk enables trade on all major crypto exchanges within a single interface, managing the complete crypto asset trading lifecycle across multiple platforms.

Regulatory compliance for professional crypto finance
With the currently effective fourth AML directive, Anti-Money-Laundering and Know-Your-Customer regulations do not only apply for traditional banking but also the virtual asset and crypto finance market. For regulatory compliance, LCX has invested to build AML and KYC technology solutions, including on-chain analytics and surveillance for all crypto deposits and withdrawals. The LCX due diligence process combines the best-in-breed deep learning-based technologies for ID authenticity check, biometric verification, liveness detection, blockchain analytics, and AML automation.

Monty Metzger, CEO, and Founder of LCX: "We were looking for the most sophisticated biometric technology to develop an unrivaled identity verification process for KYC/AML regulatory compliance. By directly integrating BioID's APIs in our service offerings, we gain all the accuracy and flexibility we require to serve the regulated crypto finance market."

Biometrics Enable AML/KYC Compliant Identity Proofing
As the LCX biometrics provider, BioID facilitates regulatory compliance by validating the authenticity of the LCX customers. In particular, BioID verifies the ownership of IDs, comparing the person submitting the ID with the person on the ID photo with facial recognition. Using BioID's patented liveness detection, this provides for the highest levels of assurance. As BioID enables face anti-spoofing with standard cameras, the Liechtenstein company can offer secure and convenient self-serve identity proofing for their customers using their own devices, in real-time and frictionless. Liveness detection is a crucial fraud prevention method to avert stolen or fake biometrics from being used for onboarding or authentication.

"With more than 20 years on the identity verification market, we see great synergies with our partner LCX, who demonstrates remarkable innovative strength to cater the need for regulatory compliance in the professional crypto market.", says Ho Chang, BioID's CEO.

About LCX
LCX, the Liechtenstein Cryptoassets Exchange, is a global fintech company that aims to provide a range of products and services for the token economy in a regulated and compliant manner. LCX launched STO Launchpad as a one-stop tokenization platform for issuers and investors in security tokens and other crypto assets. The LCX Terminal brings together real-time and full historical data on all cryptocurrency markets, news, social analytics, and trading signals, powerful analytics, smart order routing, and trading execution capabilities — all on one solution. LCX is headquartered in Vaduz with offices in Zug and New Delhi. To learn more, visit www.lcx.com and follow us on twitter at @LCX.

About BioID PhotoVerify
BioID's proprietary technology PhotoVerify combines anti-spoofing technology and face recognition to check the legitimate user's presence. This process works with any device and any off-the-shelf camera, requiring two selfies and an ID photo only. Presentation attack detection is the strength of the BioID Web Service to prevent frauds using photos, videos or masks. With BioID PhotoVerify, service providers can be sure that the person submitting an ID is actually the owner of the ID. Therefore, BioID's technology is an important factor in any automated identity verification solution, enabling eKYC with biometrics.



Contact
BioID
Ann-Kathrin Freiberg
+49 911 9999 898 0
press@bioid.com

LCX
Amanjot Malhotra
pr@lcx.com
https://www.lcx.com/