Posted on
Use case biometric access control
Open the door via Nuki Smart Lock and BioID face recognition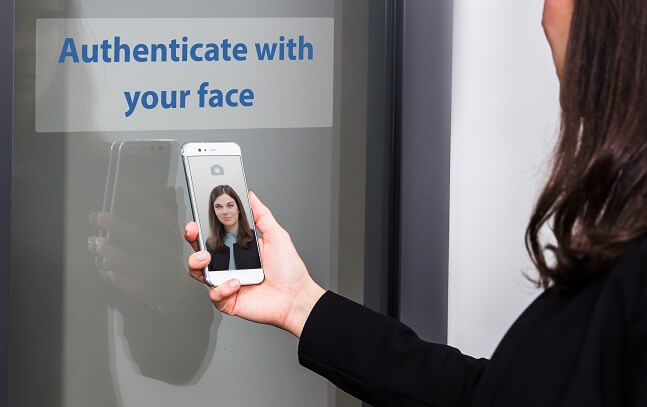 Working for a keyless future, the Austrian company Nuki offers smart access systems that use mobile solutions as keys. Part of their offer is the Nuki Smart Lock which can be attached easily to existing standard locks. Connected with the Nuki app, such a door can then be opened with just one click on a smartphone or different accessories, like the Nuki Keypad or Nuki Fob. In order to enhance this functionality with another security layer, BioID connected their proprietary facial recognition service for biometric access. Now, BioID's Nuki-enabled office door can be opened with nothing more than a short gaze into the smartphone's camera.

Physical and logical access with facial recognition
BioID offers a service for biometric authentication and specializes in the field of face recognition. A central component of this technology is liveness detection, which serves as a security mechanism against facial recognition fraud. The liveness detection analyses incoming images with regard to three-dimensionality and texture. This way not only photos and videos, but also manufactured paper and silicone masks are rejected. BioID technology can be applied especially to scenarios that require controlled physical or logical access.

How to open the door with BioID face recognition and Nuki Smart Lock
To begin with, the person registers with BioID and gets trained (enrollment). During the enrollment process, facial images are created and transformed into a biometric pattern. This unique pattern is stored at BioID, together with a unique identification number. In the BioID face recognition app, which was modified for Nuki, the user is registered with their personal identification number. As soon as the "open door" or "unlock" button in the Nuki app is pressed, the face recognition and liveness detection process is conducted and serves as additional security mechanism: fraud protection against photos, videos and masks makes sure, that no unauthorized person can open the door. For unlocking the door, two selfies are made and sent to the BioID server. In the background, these are again converted into biometric patterns and compared with the stored pattern per identification number. If the patterns match and additionally the liveness detection process was successful, the door is opened by the Nuki Smart Lock.

How the biometric access integration looks like is shown by this short video:


Note: This solution is a possible integration of the Nuki Web API and the BioID Web API. From today's point of view no public rollout is planned. Please contact us for learning more.
The secure architecture
In this case, BioID uses the Nuki Combo hardware, consisting of Nuki Smart Lock and Nuki Bridge. These are both installed at BioID's office. Instead of just using the Nuki app to unlock and lock the door, the BioID face recognition app (iOS) was modified and connected to the Nuki Web API. An employee trying to open the door will send an authentication request to the BioID servers by clicking "unlock" in the modified BioID app and performing face recognition and liveness detection. If successful, BioID's servers will send positive feedback to Nuki's servers. These then communicate with the Nuki Bridge, which finally sends the opening command to the Nuki Smart Lock. This secure architecture prevents unauthorized access and man-in-the-middle attacks.

Step-up authentication with biometric access control
This example demonstrates a facial authentication use case for physical access control. By adding a security feature, it can easily enable step-up authentication with certain rules: For example, an office door could be opened without facial recognition during usual opening hours via the Nuki app. Instead, if the door is unlocked during the night, for example at 10pm, biometric access with liveness detection can be required to contribute to a higher assurance level. In addition to a simple "unlock" through the Nuki app, "unlock with facial recognition" could be added for biometric access if something is unusual.
About Nuki Home Solutions GmbH
Nuki Home Solutions is a leading provider of retrofit intelligent access solutions for Europe.

One team, one mission
"We have set ourselves the goal of making existing access solutions more intelligent and thereby replacing the physical key. We're excited to take on this challenge because we believe in simplifying everyday life through the use of mobile technologies", says Nuki CEO Martin Pansy, explaining his company's mission. Nuki Home Solutions GmbH was founded in Graz in 2014. After a successful crowdfunding campaign in 2015, the company has grown steadily and employs more than 70 people in Graz. In addition to the established Nuki Smart Lock in the current version 2.0 and an extensive range of accessories, Nuki is working hard to further develop smart access solutions for a completely keyless future. Further information can be found at https://nuki.io/en/.
Test Biometrics
Register for free at the BioID Playground to test facial recognition and liveness detection. Request a trial instance for full access to our biometric APIs. More information for developers can be found at: developer.bioid.com
Contact
Ann-Kathrin Schmitt
+49 911 9999 898 0
info@bioid.com